Collection of Nutrition Articles
Posted 9/20/2014

Over 400 previously posted articles on healthy living and nutrition are found from this point on. Enjoy looking through them.
Sugar is More than Empty Calories
Posted 9/19/2014 by www.nutritionaction.com

People who drink more sugary beverages have a higher risk of weight gain, diabetes, heart disease, and gout.
When I first began my work on food safety and nutrition in 1970, people knew that tasty, familiar white sugar was just "junk" and "empty calories." Sugar was derided because it was devoid of vitamins and minerals and it promoted tooth decay.
But recent studies have begun to demonstrate that the large amounts of added (or refined) sugars—including cane and beet sugar, high-fructose corn syrup, plain corn syrup, and dextrose—in our diets are harming much more than our teeth.
28 Days to a Healthier Heart
Posted 9/19/2014 by Centers for Disease Control and Prevention

February may be the shortest month of the year, but it's enough time to achieve some big improvements in your heart health. Now is the perfect time to get started on a new, heart-healthy game plan. Think about making one small change each week to lower sodium, get active, quit smoking, and control blood pressure to boost your heart health this month.
Experts Say More Sleep Can Be Part of The Prescription for Obesity Prevention in Children
Posted 9/19/2014 by NUTRITION AND YOUR CHILD – NUMBER 1 - 2014

The consequences of not getting a good night's sleep are numerous, but one of the most important recent findings is how a lack of sleep can impact weight. Although there have been studies to show this relationship in adults, there have been few studies that show this objectively in minority children.
Health Benefits of Eating Fruits & Vegetables
Posted 9/19/2014 by www.extension.org

Fruits and vegetables provide important nutrients and fiber that help maintain good health.
Fruits and vegetables provide important nutrients and fiber that help maintain good health. They are full of phytochemicals the natural plant compounds, that produce the bright color and provide a variety of health benefits. Known phytochemicals have a broad range of protective benefits.
Reduce Salt and Sodium in Your Diet
Posted 9/19/2014 by http://www.nhlbi.nih.gov

A key to healthy eating is choosing foods lower in salt and sodium. Most Americans consume more salt than they need. The current recommendation is to consume less than 2.3 grams (2,300 milligrams[mg] ) of sodium a day. That equals 6 grams (about 1 teaspoon) of table salt a day. The 6 grams include ALL salt and sodium consumed, including that used in cooking and at the table. For someone with high blood pressure, the doctor may advise eating less salt and sodium, as recent research has shown that people consuming diets of 1,500 mg of sodium had even better blood pressure lowering benefits. These lower-sodium diets also can keep blood pressure from rising and help blood pressure medicines work better.
Give Your Plate a Taste Lift without Forfeiting Nutrition
Posted 9/18/2014 by Academy of Nutrition and Dietetics

When it comes to choosing what to eat, nutrition is important but flavor is likely the true motivator and also the key to eating right, according to the Academy of Nutrition and Dietetics. This March, during National Nutrition Month®, experiment with new flavors and flavor combinations in healthy meals and "Enjoy the Taste of Eating Right."
Control High Blood Pressure with Diet
Posted 9/17/2014 by LSU AgCenter

High blood pressure is dangerous because it makes the heart work too hard and contributes to atherosclerosis (hardening of the arteries) says LSU AgCenter nutritionist Dr. Beth Reames.
Uncontrolled high blood pressure can lead to heart disease, stroke and kidney disease. These are the first, third and ninth leading causes of death in the United States. High blood pressure can result in other conditions, such as congestive heart failure and blindness.
The Real Truth About Non-Nutritive Sweeteners
Posted 9/17/2014 by LSU AgCenter

Sugar, or sucrose, is one of the most widely used ingredients in the foods we buy. All other sweeteners basically are compared to how they stack up against sugar.
Diet Beverages and Body Weight
Posted 9/16/2014 by NIH Research Matters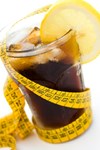 Overweight and obese adults who drink diet beverages consume significantly more solid-food calories—particularly from snacks—than those who drink sugary beverages. The findings highlight the challenges in using diet beverages to help control weight.
Excess weight can raise your risk for type 2 and gestational diabetes, heart disease, cancer, and other health problems. But maintaining a healthy weight is difficult for many people. Body weight reflects a complicated balance between the amount of calories consumed and the amount of energy used by the body.